IS Strategy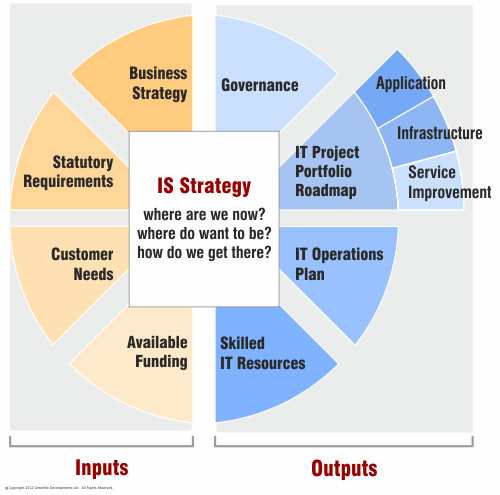 IS strategy is driven by the organisation's business strategy and alignment between the two is critical. An IS Strategy cannot be developed in isolation – it needs the commitment of all senior executives. Increasingly, technology is seen as the way to deliver competitive advantage- for example, through supporting faster time to market for new products, or provision of higher levels of customer satisfaction through e-commerce and self-service customer management. More and more organisations are dependent on internal systems to delivery efficiencies in operations, from intelligent stock control to automating manual processes.

IS strategy is not just about having the 'best' system – it's about having the 'right' system for your organisation in an overall set of systems – the applications architecture. It's about making sure that the systems deliver the right information to the right people at the right time. It's about having a set of applications that are effectively integrated. Most importantly, it's about reviewing what you already have and working out what your organisation really needs before investing millions of pounds in new systems that won't deliver.

IS Strategy is not just about the applications your organisation uses, it's about having the people in your team with skills and knowledge to support them,  the governance processes in place to ensure that the systems are implemented in a way to support the organisation's overall investment plans, and about having a realistic and pragmatic roadmap to delivering the strategy.

Greenfile Developments offers a range of services in IS strategy, including development of entire strategies for organisations and reviews of existing strategies to provide assurance. We have provided IS strategy services to clients in telecoms, in healthcare and in logistics.