our approach
We help our clients succeed through improving their effectiveness - by reducing waste, by delivering more for less.

To do this, we first gain the support for change from a senior client champion. We then map our client's processes, check their customer responses and highlight areas where the processes have become bottlenecks of poor efficiency and ineffective service.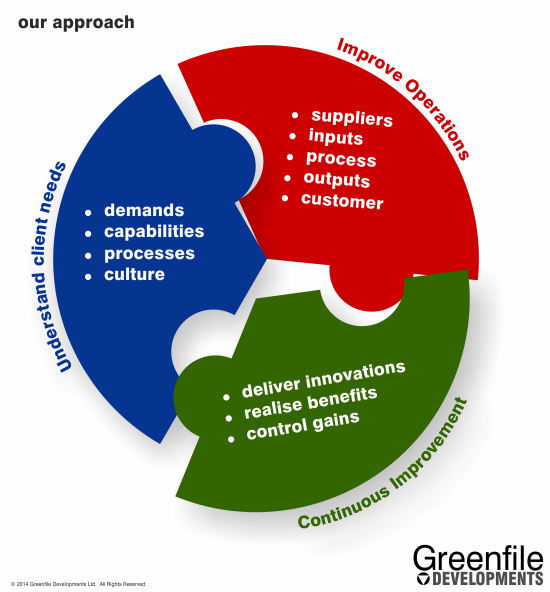 We then explore whether the bottleneck problems are from poor physical design of the work and the layout of the working areas. By applying a workplace effectiveness analysis, it is often possible to improve effectiveness quickly and at a low cost.

If the problem is not the physical layout of the workplace, we then examine the relevant process steps and suggest improvements after analysis with Lean and Six Sigma Quality techniques.

However, should the process needs to be replaced, we can help our clients design new processes and procedures that reduce the likelihood of errors and mistakes.

We help our clients to set the right targets and implement the improvements and manage the gains as well as encouraging and enabling innovations.

The next step is to work with the client to explore how the process can be improved continuously.

We also help our clients in designing and implementing the support system that enables the improvements to be sustainable. These include effective governance; information systems; communications and marketing initiatives; respect, recognition and reward schemes; as well as training and development programmes.